February
3rd-6th Bungendore Country Muster
26th Loins Park Forbes 11am
26th Gooloogong Country Club 7pm
March 2005
5th Forbes Services Club
12th-13th Parkes Showground 2pm-5pm & 7.30pm-10.30pm
April
16th Raby Hall
21st-24th Boondooma Station QLD
September
28th-30th Parkes Country Music Festival
October
1st Target Country Parkes 10am-12md
2nd Parkes Services Club Upstairs 1pm-5pm Country Jam
2nd Parkes Services Club Downstairs Lounge 7pm-9pm
21st-23rd Burcher Popper In The Pines Tractor Pull
28th-30th Widgee Bush Balladeer Muster Widgee Sports Ground
November
20th Dubbo RSL
December
To Be Announced
January 2006
23rd-27th LBS Studios Goonoo Goonoo Rd Tamworth Country Walkup 2 shows daily Hosted by Charmaine Pout featuring Walk Up Artists 12md-2pm & 5pm-7pm
January 2004
Tamworth Country Music Festival
LBS Open Day Moonbi
LBS Studio Tamworth Goonoo Goonoo Rd
plus many other appearances dates to be confirmed.
January
29th -31st 2004 Bungendore Country Muster
February
1st Bungendore Country Muster
21st-22nd South Coast
March
20th Parkes Country Music Night. Services Club
21st Orange Services Club Counntry Music Arvo
April
8th-12th Plough & Be Counted Cootamundra
23rd Gympie (venue to be advised)
24th-26th Boondooma Station
May
June
July
Hats Off Tamworth Various Venues (TO BE ADVISED]
August :To Be Advised
September:
Parkes Country Music Spectacular
October : Parkes Country Music Spectacular
November:
12th Goulburn Workers Club(Convoy For Kids Concert)
December: To Be Advised
Cowra Musters
3rd May CBC
7th June CBC
5th July CSC
2ND August CBC
6th September CSC
4th October CBC
1st November CSC
6th December CBC
CBC=Cowra Bowling Club CSC=Cowra Services Club
Inquiries Tom O'Reilly 0263426248
Forbes
April
12th muster
May
17th-18th Talent Quest
June
14th Muster
July
12th Muster
August
9th Muster
September
13th Muster
October
11th Muster
November
8th Muster
December
14th Xmas Muster
Further enquiries to Secretary P.O. Box 728 Forbes.2871 or
Cootamundra Muster
4th Friday each month at the Globe Hotel Cootamundra
2nd Friday at the Wambat Hotel.

Eugowra/Gooloogong Musters
June
1st Gooloogong Golf Club
August
3rd Eugowra Bowls Club
October
12th Gooloogong Golf Club
December
7th Eugowra Bowls Club
Dubbo Orana
Inquiries 026854262
Wagga Wagga
Music nights 3rd Sunday of every month at the Commercial Club
Young
Regular practice nights at the Criterion Hotel 7.30pm
enquiries 0263839228

Parkes Musters
20th April
25th May
15th June
20th July
17th August
21st September
2nd-7th October Parkes Country Music Festival
19th October
16th November
21st December Xmas Muster
all fuctions held at the Services Club Parkes at 7.30pm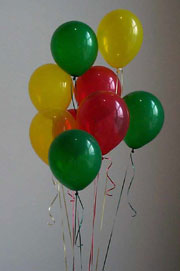 Bathurst Musters
Bathurst RSL Auditorium 8pm-Midnight
3rd May
7th June
5th July
9th August
6th September
18th October
8th November
8th December
7th Sept 2001 Ladies of Country Concert
Parkes Services Club
9th Sept 2001 Parkinsons Disease Charity Concert
Little Theatre (M&D)Parkes
14th Sept 2001 Globe Hotel Forbes
Goes Country
29th Sept 2001 In Store Target Country Parkes
9.30am-12midday
29th Sept 2001 Bush Balladeers Show
Parkes Leagues Club 2.00pm-4.30pm
30th Sept-7th Oct Mildura Country Music Festival
various venues
This is the year of the Yodeller
20th October 2001 AMP Federation Expo South Circle Oval
Forbes Special Appearance 4.15pm-5.00pm
3rd November 2001 Mathew Piper Fundraiser Forbes Showground
10.00am Start continues throughout the day and into the evening with fine bush music band.
Walk Up Artists throughout the day.
2nd December 2001 Forbes Carols By Candlelight Victoria Park
8.00pm
Tamworth Country Music Festival.January 2002
LBS Open day Sunday 20th
Anne Conway Show 21st
ACMLA Showcase Fanland 21st
Anne Conway Show 22nd
Buttercup Open House 23rd

more as they come to hand
Bungendore Country Muster 2002 1st-3rd

Awards night 2nd Febuary 2002

March 16th -17th Cowra Country Music Club Talent Quest,Cowra Services Club

30th March Globe Hotel Forbes 6pm-11pm

7th April 12m/day-6.00pm Main Street Grenfell.
Grenfell N.S.W.
8th April Forbes Rec Club 7pm
21st April Parkes Services Club Country Music Guest Artist

5th -14th May Great Ocean Road Tour,Vic, South Australia and Outback N.S.W. Coach Concerts.

18th May Globe Hotel Forbes 6.30pm-11.00pm


Geoff Evans Dance Tour Forbes Services Club
Special Guest 20th July 2001
10th August Forbes Servies Club
Forbes Country Music Club Muster
18th August Bedgerabong Show
1st Sept 2001 Forbes Sport and Recreation Club Private function
Bill's Bunkhouse for more information please phone:Colleen 0263588282 or Wendy 0262791247.
18th March Concert In Victoria Park Forbes featuring Members Forbes Country Music Club 4pm-5.30pm
Artists Appearing
Paddy Molloy
Robert Hoswell
John Goodsell
Ray Lassere
Val Little
Drinkwater Family
Lester Karatiana
Backing Keith Noaks and Warrick Trapman

Hartwood 2001
Easter long weekend-April 13th,14th,15th
Artists Appearing:Rex Dallas Lynette Guest Johnny Greenwood Ernie Constance Sharon Heaslip
10.00AM SAT Sun
Campfire Sing-a-long - Hosted by Charlie Bartolo
FURTHER INQUIRIES PHONE 075445937, MOB 0428668361 or Hartweood direct on 0267442158

Forbes Country Music Entertainment Nights
March 16th
April 27th-28th Talent Quest
May 18th
June 15th
July 6th
August 10th
September 14th
October 12th
November 15th
December Xmas Party date to be advised
Venue:Forbes Servies Club.Templar St,Forbes.


Parkes Country Music Association Entertainment Nights
March 17th
April 21st
May 5th-6th South Coast Country Music Club Visiting
May 19th Trivia Night and Entertainment
June 16th
July 21st
August 18th
September 15th
October 20th
November 17th
December 15th Xmas Muster and Party

These Functions are held at the Parkes Services Club.

Parkes Spectacular Talent Quest September 27th -30th.



Cowra Country Music Club Talent Quest
March 16th 17th Cowra Services Club
Contact Judy Morrison For further infomation or email me.

Pure Country Joy and John Rice hold country music get togethers at the GOOLOOGONG COUNTRY CLUB
April 10th
June 2nd
August 4th
October 6th
December 1st
These functions are held every two months starting at 7pm walk up artists on the night.Please come along and join in the fun and dont forget to bring your friends.

Mildura Country Music Festival
September 28th -October 7th
more info as it comes to hand


Wagga Wagga Country Music Club Talent Search NSW.
March 3rd
For details contact Mike McCall 0269*251795 or Pete Tiller 0269223140

Cane Country Junior Festival
March 3rd 4th Beenleigh Qld Contact John McNair 0738094894 or Ken Ryan 0738030515 for details

Lake Cooroibah Country Music Jamboree
March 9th 10th 11th Noosa North Shore Retreat phone for details 0754471225 or 0754471706

South Coast Country Music Festival and Talent Quest
April 5th 6th 7th 8th Contact Di O'Dwyer 0242377176 for further infomation

Leeton Talent Quest
April 7th 8th Contact Millie Salter 0269557636 for details and entry forms

Capricorn District Country Music Association Jamboree
Rockhampton April 20th 21st phone Nell 0749341320 or Ailsa
07492772821 to find out more.

Esk Country Music Roundup Lyceum Hall Qld
April 21st 22nd. Phone Leanne Jennings 0754241963

Lake Cooroibah Country Music Jamboree
June 1st 2nd 3rd phone 0754471225

Warracknabeal Rodeo & Country Music Muster Vic
October 19th 20th Enquires 1800775117

Lake Cooroibah Country Music Jamboree
November 9th 10th 11th enquieries to 0754471225

Broxburn Bash and Country Music Festival
May 5th 6th phone 0746931088

Yamba & District Country Music Club Musters
March 24th
April 22nd
May 27th
June 24th
July 22nd
August 26th
September 23rd
October 28th
November 25th
December no muster
June Muster -5pm November Muster-10am-5pm
Yamba Bowling Club
more information phone:Darryl McSwan 66 452690 or Judy Causley:66461290

See you all there for a great time with music and friends.

Geoff Evens Dance Tour 20th July 2001 Forbes Services Club
Sydney Country Music Festival 15th-17th Sept 2001
Bookings Essential:0296733333
3rd November 2001 Mathew Piper Fundraiser Forbes Showground.
more info contact 0419414623
2nd December 2001 Forbes Carols By CandleLight Victoria Park Forbes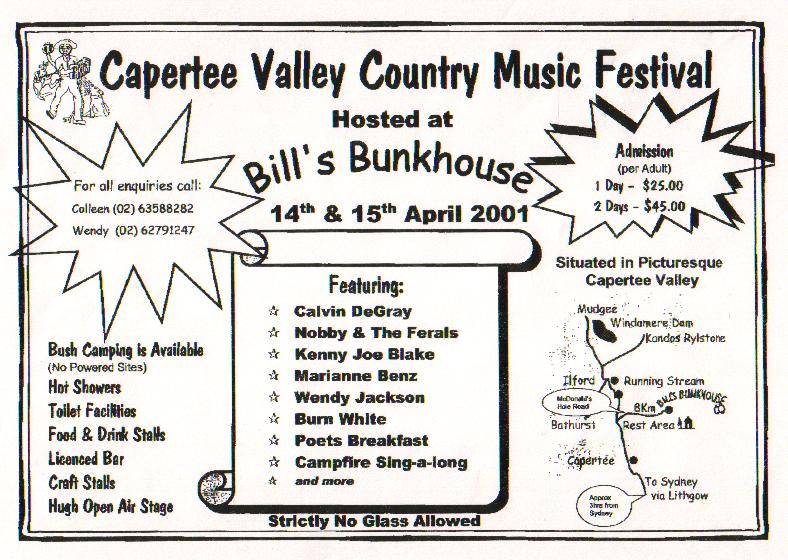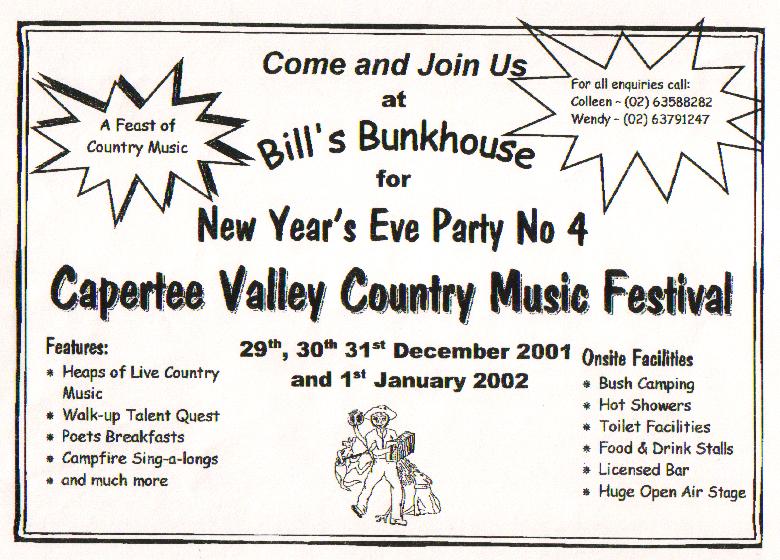 March
Pre Camel Races: Globe Hotel Forbes (22nd March)
April
20th Goulburn Workers Club

27th Boondooma Station QLD
May
25th Parkes Country Music Services Club
June
16th Bathurst Services Club
July
12th Forbes Services Club Autitorium
August
3rd Eugowra Bowling Club
24th Parkes Services Club LOC Concert
Sept
3rd Cowra Country Music Club Cowra Services Club
15th Little Theatre Parkes Charity Concert (Parkinsons Diease)
13th Forbes Services Club
27th-30th Mildura Country Music Festival
Oct
1st-3rd Mildura Country Music Festival
4th-7th Parkes Country Music Festival
11th Forbes Services Club
12th Gooloogong Golf Club
17th Wauchope RSL
19th Parkes Services Club
Nov
1st-9th Gold Coast Qld
16th Parkes Country Music Muster Services Club
Dec
1st Forbes Carols By Candle Light Victoria Park
Jan 17th-27th 2003
Tamworth Country Music Festival
17th Anne Conway Show Grace Bros
18th Anne Conway Show Grace Bros
19th Jan LBS Open Day Moonbi
20th Good Companion Hotel
Fanland Drover Music Talent Search
21st Longyard
Fanland Drover Music Talent Search
22nd Tamworth Town Hall
23nd Joe Mcquires Pub
24th Joe Mcguires Pub
25th Longyard
Feb2003
2nd Feb Bungendore Country Muster
28th- Nth Shore Holiday Resort-Tewantin QLD
March
1st-2nd Nth Shore Holiday Resort- Sunshine Coast QLD
3rd-8th Cold Coast Qld
9th-31st Gold Coast-to Cairns "On the road Tour"
April
1st-24th Cairns-Kingaroy"On The Road Tour" cont'd
26th Boondooma Heritage Day QLD
May
22nd-25th Toolibuc Murray Festival Muster
June
Hats Off Tamworth
8th Bush Balladeers Showcase
July
To be Advised
August
9th Parkes Ladies of Country Services Club
17th Bush Ballad Concert Blacktown RSL
September
12th Forbes Services CLub CMC
14th Little Theatre Parkes
20th Parkes Services Club
October
3rd Parkes Spectacular Services Club
Album Launch:" Another Day In Paradise"
12th Orange Senior Citizens Club OMG
November
1st Camp Quality Fundraiser Forbes Services Club
8th Convoy for Kids Goulburn
(entertainment in the park 10am)
Railway Bowling Club
15th South Circle Oval Forbes(Relay For Life)
December
7th Victoria Park Forbes(Carols by Candlelight)